Cooling Sector Status Report Lebanon
Analysis of the current market structure, trends and insights on the refrigeration and air conditioning sector
A peak inside the report
Lebanon is expected to see a 75% increase in final energy consumption in buildings by 2030. Cooling and dehumidification are the highest energy consuming end uses in the Lebanese building sector. This trend is expected to grow as average temperatures continue to rise. There is limited data and market studies on the current state of the cooling sector in Lebanon. The Cooling Sector Status Report aims to rectify this on residential and non-residential air conditioning and commercial refrigeration. The report provides an overview of the cooling sector in Lebanon by laying the foundation for understanding upscaling sustainable cooling technologies potential in the country and the use of natural refrigerants as an alternative to harmful synthetic refrigerants.
The report includes information on the following topics:
Country overview
Air conditioning market
Commercial refrigeration market
Refrigerant market
Cooling sector insights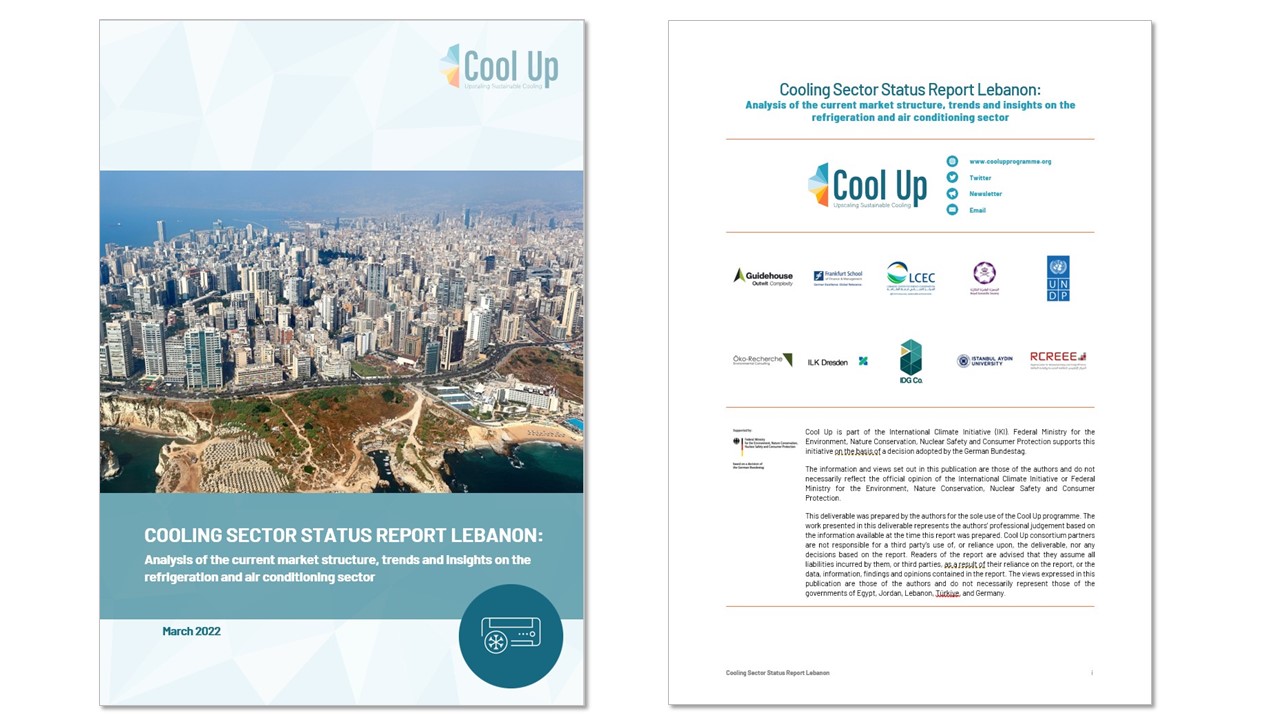 of total electricity demand in Lebanon accounted for cooling in 2018
increase is expected in final energy consumption in buildings by 2030
of refrigerants in Lebanon are currently imported
The lead author organisations
This Cooling Sector Status Report was prepared by Guidehouse and its national partner the Lebanese Center for Energy Conservation. It is the first of its kind to provide an overview of the current state of the air conditioning and refrigeration market in Lebanon. Through a targeted primary and secondary data analysis, the report addresses Lebanon's potential to develop a national natural refrigerant market that could reduce its dependency on imports.
"The market for cooling equipment is expected to grow. Therefore, introducing sustainable cooling technologies and natural refrigerants early as a direct replacement to prevent potential lock-in effects to harmful refrigerants is needed."
Jan Grözinger, Guidehouse
Publisher

Guidehouse Germany GmbH
Albrechtstr. 10C
10117 Berlin
+49 (0)30 297735790
www.guidehouse.com
© 2022 Guidehouse Germany GmbH

Lead authors

Dr. Sorina Mortada, Hussein El Samra, Mohammad Hammad (Lebanese Center for Energy Conservation)

Jan Grözinger, Nesen Surmeli-Anac (Guidehouse)

Contributing authors

Sven Schimschar, Eslam Mohamed Mahdy Youssef, Katja Dinges, Andrea Dertinger, Alexander Pohl (Guidehouse)

Felix Heydel (Öko-Recherche)

Sanjeev Tamhane, Zuhal Ürgüplü Sanal (Frankfurt School of Finance and Management)

Mohamed Abdelhameed (Regional Center for Renewable Energy and Energy Efficiency)