Cooling Sector Status Report Türkiye
Analysis of the current market structure, trends and insights on the refrigeration and air conditioning sector
A peek inside the report
Türkiye's energy consumption has steadily increased across all sectors, reaching 103 Mtoe in 2018 and contributing to net greenhouse gas (GHG) emissions of 422.1 MtCO2e (million tonnes carbon dioxide) in 2019. In 2018, electricity demand in the residential and public and commercial building sectors combined accounted for 48% of Türkiye's total electricity consumption—the highest energy consuming end use of any sector. This trend is expected to grow as average temperatures continue to rise. There is limited data and market studies on the current state of the cooling sector in Türkiye, thus the Cooling Sector Status Report aims to establish the status quo for residential and non-residential air conditioning and commercial refrigeration. The report provides an overview of the cooling sector in Türkiye by laying the foundation for understanding upscaling sustainable cooling technologies potential in the country and the use of natural refrigerants as an alternative to harmful synthetic refrigerants.
The report includes information on the following topics:
Country overview
Air conditioning market
Commercial refrigeration market
Refrigerant market
Cooling sector insights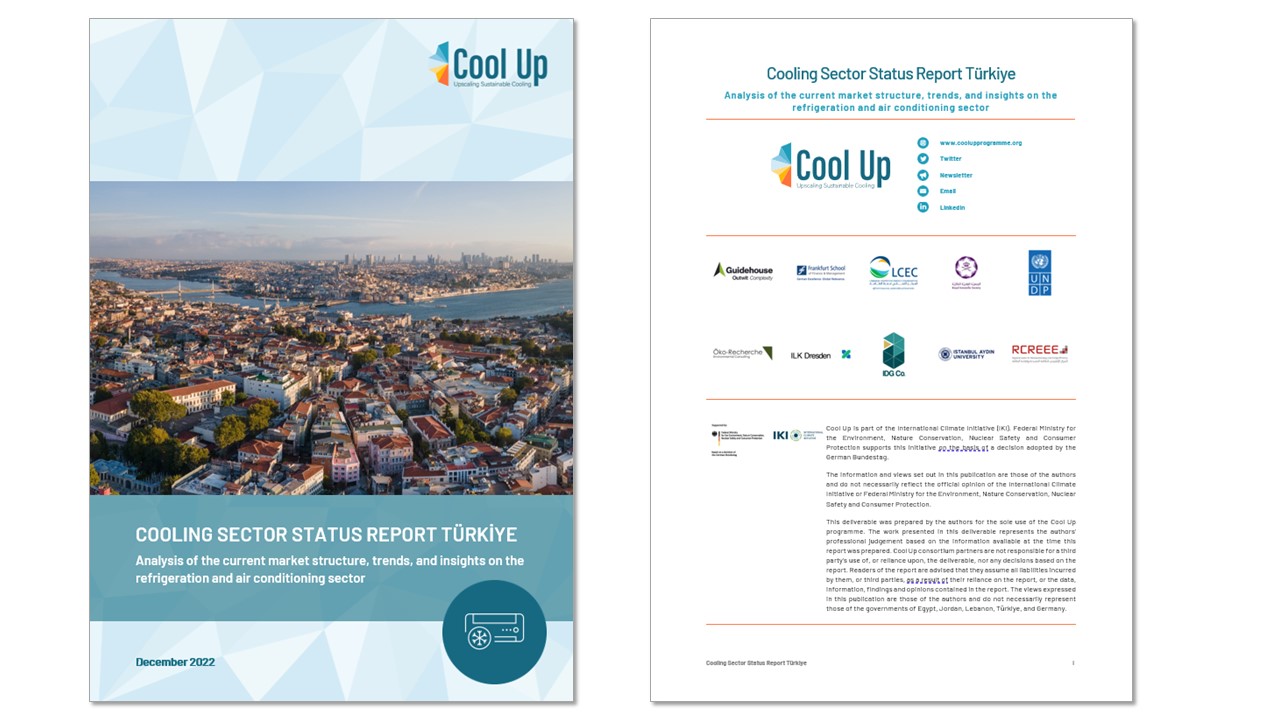 or more of new office buildings, supermarket and retail, hotel and healthcare buildings in Türkiye install AC systems
of the existing residential floor area in Türkiye is not yet air conditioned
energy consumed in Türkiye in 2018
The lead author organisations
This Cooling Sector Status Report was prepared by Guidehouse and its national partner, Istanbul Aydin University. It is the first of its kind to provide a holistic overview of the current state of the air conditioning and refrigeration market in Türkiye. Through a targeted primary and secondary data analysis, the report addresses Türkiye's potential to create affordable, intergenerational solutions to beat the heat.
"The government is promoting the transition to low-GWP alternatives in RAC applications through both the recent publication of Türkiye's F-gas regulation, as well as by mobilising the required support from international agencies for the private sector to facilitate the shift to new technologies. "
Jan Grözinger, Guidehouse
Publisher

Guidehouse Germany GmbH
Albrechtstr. 10C
10117 Berlin
+49 (0)30 297735790
www.guidehouse.com
© 2022 Guidehouse Germany GmbH

Lead authors

Hasan Heperkan (Istanbul Aydin University)

Jan Grözinger, Nesen Surmeli-Anac, Emma Krause (Guidehouse)

Contributing authors

Sven Schimschar, John Niedergesäss, Jessica Weir, Jakob Hoffmann (Guidehouse)

Felix Heydel, Maria Pushkareva (Öko-Recherche)